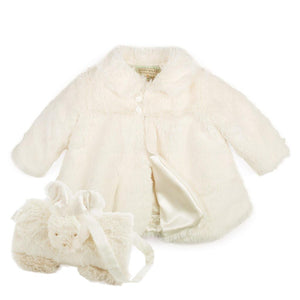 gorgeous satin lined swing coat, faux fur bunny muff and bunny hat

sweet poem embroidered inside with a special message
presented in a stunning and sturdy keepsake box
machine wash cold gentle cycle, line dry
A true "furst" baby coat so soft it will melt in your hands. This delightful "hareloom" is a part of our Storywear collection and comes nestled inside a beautifully illustrated storybook box.

The set includes a swing coat, bunny muff & bunny ears hat made with super soft and luxurious faux fur and satin lining. A message embroidered inside the coat reads "Once within this dreamy coat, Danced a dainty lass. Remembering all the glad dreams, to her daughter, the coat will pass."
Size: 18-24 months. Machine wash cold gentle cycle, line dry.