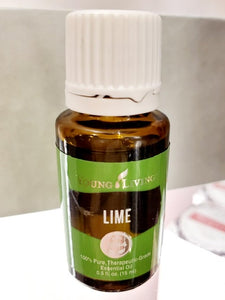 With a bright and refreshing citrus scent, Lime essential oil smells just like freshly sliced limes. When diffused this summery aroma can uplift your environment. Lime oil has a versatile scent that complements most other citrus essential oils such as Lemon, Bergamot, Grapefruit, Orange, and Tangerine.
If you're feeling uninspired, try diffusing Lime oil for a bright, refreshing aroma that may clear a path to greater creativity. This quality also makes Lime a great choice for diffusing in classrooms and children's play areas. Lime can also support radiant skin! Try adding a couple of drops to your favorite nighttime moisturizer for healthier-looking skin. Because Lime is a citrus oil, it may cause photosensitivity, so be sure to avoid applying it to exposed skin before spending time in the sun.
Lime is an important ingredient in Thieves® Fruit & Veggie Wash and Common Sense™ and Stress Away™ essential oil blends.