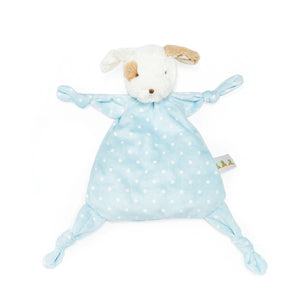 10" lovie with knotted arms and legs  
perfect for gentle chewing and self soothing
untie knot to attach pacifier/get knots wet and freeze for sore gums
machine wash and air dry
Our Knotty Friend loveys have won the hearts of wee ones around the world. A sweet fur baby-safe embroidered face with velour floppy body in sweet pink with cream polka dots.

This bunny's knotted arms and legs are perfect for gentle chewing. Untie the knotted arm or leg and re-tie onto baby's pacifier to keep it close at hand for an even better way to soothe. Signature three carrot tag for little one's fingers to explore.
Add a monogram for an even better baby gift.
Size 10"
Machine Wash & Air Dry. 100% Polyester. Imported.
Why we LOVE Knotty Friends
Super Soft and Cuddly
Sweet Embroidered Animal Faces
Knotted Arms and Legs to Soothe Teething Babies
Pacifier Holder and Lovey in One
Multiple Textures for Soothing and Developing Babies Senses
Machine Washable